About Us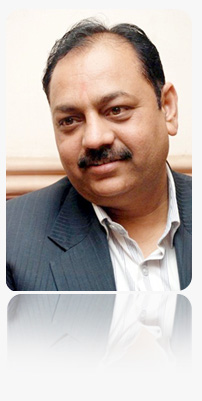 Rajiv Bajpai the director of TRUCLEAN™ Services (India) Pvt Ltd has a rich experience in the field of Pharmaceutical marketing. A science graduate who started his carrier from Cadila Oncocare and then worked with Dr.Reddys Laboratories. In the year 1998 after resigning from the company he started his own pharmaceutical company. Now J.L.Pharmaceuticals is one of the fastest growing companies in their area of operations.
Mr. Rajiv Bajpai has been actively involved in various social activities in Kanpur (Industrial capital of Uttar Pradesh). He is presently Secretary to NGO's such as JOINT CARE CLUB, SWASTH SAMAJ, UP ARTHROPLASTY SOCIETY , Vivekanand Shiksh Samiti. Mr. Bajpai is also Treasurer of EKAL VIDYALAYA for KANPUR CHAPTER. He has been instrumental in promoting importance of Health and Hygiene in our life.
It is always said that "Need is the Mother of Invention" and it was once again found correct when Mr. Rajiv Bajpai realized the importance of CLEANING WATER STORAGE TANKS. He thought that cleaning of water storage tank is very important as we use this water for Brushing our Teeth's, Bathing, Washing clothes, Utensils and even for washing vegetables and fruits. The fact remains that we do not use water passed from RO for all these works. Even being so important we ignore the cleaning of water store tanks which can be a vital source of water borne diseases such as Cholera, Typhoid, Jaundice (Hepatitis A), Skin diseases and hundreds of other diseases are because of consumption of contaminated water.
Looking to it's importance he thought of forming a company by the name of TRUCLEAN™ Services (India) Pvt Ltd which will take care of cleaning of water storage tanks in a Scientific and mechanized method.